Join our mailing list to receive priority notification of sales, discount coupons and new items.
Cathgro Industries Inc. has been providing bed linens, sheets, towels, comforters, and childrens bedding items at wholesale prices to hotels, motels, large and small retailers and resellers since 1977. Give us a try....you won't be disappointed.






[ Home > Sheets and Pillowcases > Sheets & Pillowcases > MARTEX SHEETS > Martex Millennium T-250 Fresh White Striped Sheets & Pillowcases ]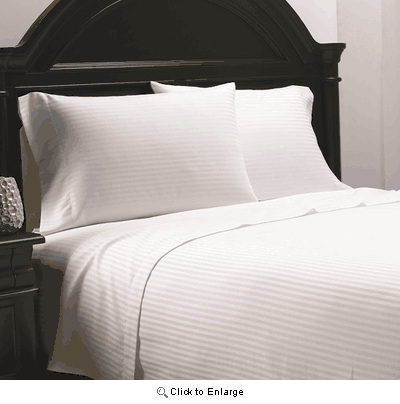 Martex Millennium T-250 Fresh White Striped Sheets & Pillowcases
Our new Millennium® T-250 Fresh White Stripe sheets provides the cool, crisp luxury of fine percale sheeting that your guest will love. All Millennium sheets and pillowcases are made with a blend of soft cotton and durable spun polyester. Available in a White on White Stripe, our Millennium sheets provide the high quality and durability your guests expect and at an extremely economical price.
60% Cotton/ 40% Polyester Twill Weave
13/32" White on White Stripe
250 Thread Count Cotton Rich Blend
Combed yarns provide extra soft hand and durability
Selvedge sides to prevent unraveling or fraying
3" Top and bottom hems
Colored hem threads for easy size identification
GSA Approved
All Millennium T-250 white stripe sheets are packed and sold in cartons of 1 dozen (12 sheets). Pillowcases are packed 6 dozen (72 pillowcases) per case.